A Concert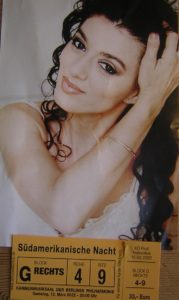 I went to Berliner Philharmonie yesterday evening. I went with Johanna, her grandson and four nice ladies. The concert was almost sold out and I noticed that most of the audience were sixty or more! The concert was called 'Südamerikanische Nacht'  which I am sure you can understand even if you don't speak German. The star of the show was a lady called Lily Dahab who was born in Buenos Aires in Argentina. She later moved to Spain and then to Berlin. She is not only good looking but has a 'one-in-a-million' voice. I was surprised that I had not heard about her before, particularly with such a wonderful voice.
She can not only move up and down the musical scales but moves between full volume and almost whispered singing. She introduced her songs in Spanish, English and German and moved between traditional South American songs to jazz and swing music from the 1950's. Her husband plays the piano to accompany her and there are another four musicians who support her and appear to be part of her regular backers. Absolutely wonderful and if you get the chance to visit one of her concerts then do so immediately. You will enjoy her musical range and talent.
The evening before I went to my local AWO for a book reading session. I went with Johanna and three other nice ladies.  The stars were the authors Ellen Händler and Ute Mitsching-Viertel. They are now retired and mainly write about women and how their lives changed with the fall of the Berlin Wall. Later they wrote a book based on interviews with men as a contrast to changes affecting women. Really interesting to listen to their presentation and readings from their books. At the end, many women in the audience made comments about how their lives had changed. A very informative evening.