Boxing Day
I woke late this morning, pulled the curtains back and was surprised to see clear blue sky and sunshine, No clouds but it was -10 °c on my balcony then. It is now -4° and all the snow in the garden has gone. Yesterday I started the day as usual with a light breakfast. I then opened my mail. Really nice to read all the messages and best wishes on the Christmas cards. I got 31 and you can see them in this photo. Many thanks to all who sent them.
I then got ready to travel to Imre's home. It took nearly one hour yesterday because of reduced transport services. I rang the bell and was soon in his flat. He greeted me warmly and said how grateful he was that I had chosen to spend Christmas afternoon w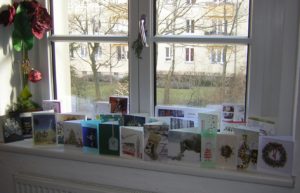 ith him. He had already cooked a very large pan of food. You can see how large in this photo. He had bought me a bottle of chenin blanc so I started the meal with a glass and then came the food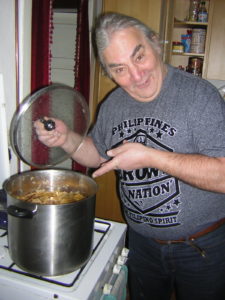 He had cooked pieces of goose with lots of vegetables. He drank orange juice because he does not drink alcohol. This time he only ate two plates of food. My single smaller plate was enough. It was very tasty and he talked about cooking such food when he lived in Hungary.
We then moved into another room and there I saw his new large Apple desktop computer. He had also bought a book full of information about how to use such a computer. He opened the computer and showed me some of the things it could do. I was impressed and spent some time on it. Many years ago I had an Apple computer but this one had many new functions and programmes. For me the drawback is the cost. Such a computer is not cheap. After more talking I put on my coat and left for home. A very interesting time with an entertaining person.