Brahms Requiem
Yesterday afternoon I met 5 nice ladies and we went to the Berlin Philharmonic Hall. Johanna had organized it all and thanks to her for that. It was an afternoon concert starting at 4.00pm and well attended, but I noticed most were 65+ just like us! The music was played by the Brandenburg Symphony Orchestra and the chorus was from the Philharmony. I have heard this music many times on the radio but this was the first time I had been to a live performance. The singers and players were excellent and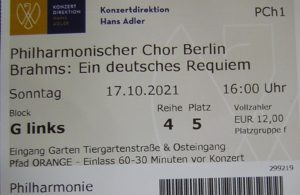 deserved the lasting applause at the end. I went on the internet to get more details about Brahms and this work so here is a selection of what I found.
A German Requiem, to Words of the Holy Scriptures, Op. 45 (German: Ein deutsches Requiem, nach Worten der heiligen Schrift) by Johannes Brahms, is a large-scale work for chorus, orchestra, a soprano and a baritone soloist, composed between 1865 and 1868. It comprises seven movements, making this work Brahms's longest composition. A German Requiem is sacred but non-liturgical, and unlike a long tradition of the Latin Requiem, A German Requiem, as its title states, is a Requiem in the German language.
Brahms's mother died in February 1865, a loss that caused him much grief and may well have inspired Ein deutsches Requiem. Brahms's lingering feelings over Robert Schumann's death in July 1856 may also have been a motivation, though his reticence about such matters makes this uncertain.
His original conception was for a work of six movements; according to their eventual places in the final version, these were movements I–IV and VI–VII. By the end of April 1865, Brahms had completed the first, second, and fourth movements. The second movement used some previously abandoned musical material written in 1854, the year of Schumann's mental collapse and attempted suicide, and of Brahms's move to Düsseldorf to assist Clara Schumann and her young children.[1]
Brahms assembled the libretto himself. In contrast to the traditional Roman Catholic Requiem Mass, which employs a standardized text in Latin, the text is derived from the German Luther Bible. In 1866 Brahms made an arrangement for piano solo of the six-movement version of the Requiem, which he revealed to Clara Schumann at Christmas of that year.