Surprise
I've had a quiet week, including sitting on the balcony reading my book. It ended in a nice surprise yesterday. The story begins with Martina from my Ko-Gang asking me to go  to her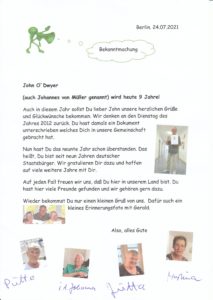 place for a meal. She cooks very well so I immediately said, 'Yes'. We agreed that I go to her nice, big, flat yesterday at 5.00pm. I arrived on time and there was Jutta who also greeted me and joined in the meal. She is also from my Ko-Gang and has a talent with images and computers.
As we settled around the dining table, Martina gave each a glass of sekt as Jutta placed a wrapped paper in my hands and they said, "Congratulations dear John!" I opened the paper and then understood. Here you can see the document produced by Jutta. It celebrates 9 years to the day when I got my German citizenship. Yes, it was on Tuesday 24th July 2012 at 1.00pm that I was asked to step forward and receive the document from the Mayor of Lichtenberg = the district in which I live.
If you go down the photos on the left side of my blog you will find a photo of me with the Mayor and the document in my hand and a BIG smile on my face! What a day that was and one I shall never forget. I was surprised that Jutta and Martina had remembered and planned the happy meeting yesterday. Many thanks to both of you.