A Concert
I've enjoyed the last few days, mixed weather including. I planned for my Ko-Gang to relax in the gard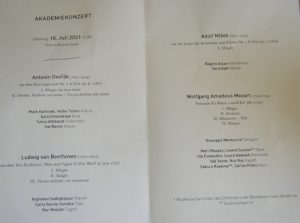 en on Friday evening but had to cancel due to rain. Instead, we met at Johanna's place for a pleasant evening of food, good wine and nice conversation. She had a visitor from Poland who spoke very good German and it was interesting to listen to her opinion about different things. When I first came to Berlin I spent a lot of time travelling through Poland and have happy memories of my time there and of the people.
Yesterday I went to a concert with two of my Ko-Gang. It was in the Pierre Boulez Hall of the Barenboim-Said Academy. I've been there before and posted to my blog. This time we had to sit apart from each other and when not sitting, we had to wear a mask. The event was called,'Akademiekonzert zum Semesterabschluss'. Basically it is a concert given by young musicians who have completed their music courses and got their degrees. It was really good and I could only marvel at the talent of the young musicians. I hope they all now find a position in an orchestra and bring their musical skills to more people. They played music by Dvorak, Beethoven, Misek and Mozart.
Today we have warm weather and blue skies in Berlin. A young family is having a party in the garden to celebrate their daughters 4th birthday. Nice listening to the kids as they play and enjoy the day. I don't think they will be watching TV this evening. Footie Final: Yes, many people are bracing themselves for the final of the European Football Championship this evening. It is England vs Italy from Wembley. I shall be watching and hope that the English team win. Enjoy the game! UPDATE: In case you don't know the result it was Italy 3 and England 2. The game went into penalties. I still think the English team played well!