Chorin
I went to Chorin yesterday. It is an old town north-east of Berlin. I went with three of my Ko-Gang in a car. It was nice t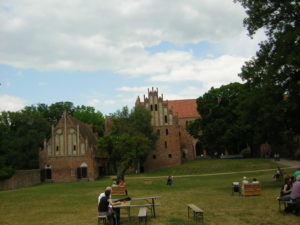 o see the countryside smiling at the sun and blue sky! It was also nice for me to just get out of Berlin and away from my routine. I have been there before and even posted reports and photos on this blog.
Why did I go there? Our destination was Kloster Chorin which hosts summer classical concerts. Yesterday was the opening concert. The building fell into ruin after 1550 and the advent of The Reformation. Just after 1900 it was re-built in parts with rooms for players and a large open room for the audience plus an adjoining garden area. We sat in the latter, in the sun. and enjoyed the music.
I noted that most of the audience were over 60 but they enjoyed just being there. There were small stalls for snacks, beer and wine and that added to the pleasure. We listened to Maurice Ravel: Le Tombeau de Couperin as the starter and then settled down for Ludwig van Beethoven: Sinfonie Nr.3 Es-Dur op. 55 'Eroica'. Both were well played by a local orchestra called, 'Philharmonisches Orchester des Staatstheaters Cottbus' conducted by Alexander Merzyn.
We then slowly moved to the car park and the ride back to Berlin. I arrived home just in time to watch a football match followed by another at 9pm. There are games this evening and tomorrow,  but the 'Biggi' is on Tuesday – as I am sure you know – when Germany plays England in Wembley. And so ended a very memorable and happy day. I would welcome more like it.