Jab 2
I had my second anti-corona vaccine jab on Friday at 11.00am. Johanna went with me an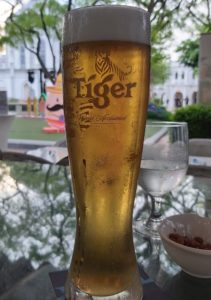 d it was nice to have her to talk to and hear her advice. We went there and back by taxi for this is provided by the Berlin government. Again I was surprised by how many 'Oldies' could only move with the help of sticks or wheel chairs or other aids. I have had no problems with the injection so far although I was tired yesterday and nodded off in the afternoon.
I checked my e-mails and found one from Ian. He is staying at his flat in Singapore at the moment. He sent a message wishing me all the best for my second jab and this photo of Tiger Beer, which I guess he drank after taking the shot. I am sure I drank this beer when I visited Singapore a few years ago. From there I flew to Sydney and stayed with him and Birgit at their house. Nice memories.
He als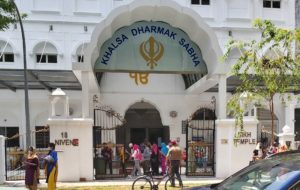 o sends photos of interesting places in the area where he lives in Singapore. One was of a Sikh Temple or Gurdwara. Here is the shot. Ian and I share an interest in all things India. He had regular contacts to India as a child then as a teenager. Mine came when I was older. Looking at his local temple took me back to visiting The Golden Temple at Amritsar in the north-west of India. In fact I have visited it three times and always have memories of staring out over its little lake and noting the calm and peace. It is the preeminent spititual site of Sikhism.
Construction started in 1581 and it has an interesting history, including expansion and re-building. It is also next to Jallianwala Bagh (Garden) now famous for the massacre there in 1919. The Gov-General of Punjab was then Sir Michael O'Dwyer. He ordered the troops to the garden leading to the massacre.  That is why I never used my name when I was there. If you get the chance,  go to the Temple and enjoy its atmosphere. You can also get a free vegetarian lunch. Very nice!