To eat or….
'To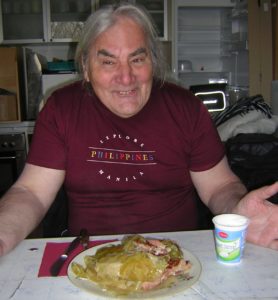 eat or not to eat. That is the question'. I wondered if Shakespeare had ever said, or thought those words, as I made my way to Imre's home yesterday. He had invited me for lunch and as I mentioned before he is a good cook and actually enjoys cooking. I arrived on time and settled at his dining table in the kitchen. He continued to stir the contents of a large pan while talking about many things. He also likes to talk. I asked him what was for lunch and he said it was a surprise as he laughted out lound.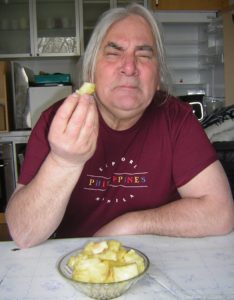 Then a plate was put in front of me. It was meat cooked with rice and spices and then wrapped in cabbage leaves and cooked again. It was very tasty and filling so I declined another helping. Imre had more and enjoyed chewing on some meat ribs in addition to the cabbage.  I sipped a glass of red wine as I finished off my plate. Very tasty! For pudding he ate slices of fruit.
We then moved into his living room and settled down to listen to him talk about his plans for the rest of the year and even for the next year. He also talked about how long he had lived in the district and the people he shared the building with. And so the afternoon went by and it was time for me to leave. He came to the S-Bahn station with me and there we said our goodbyes. We agreed to meet for a bicycle ride when the weather gets better. I wonder if he will bring stuffed cabbage as a picnic then!