Birthday
Imre was 66 yesterday and he invited me to visit. I readily accepted. He said come at 1pm so we can have lunch together. He even said he had boug
ht a bottle of white dry wine for me to sip as we ate. He doesn't drink any kind of alcoholic liquid – just fruit juice. I arrived on time and we greeted each other with the new antil-Covid elbow touching that has taken over from handshakes.
I sat at his kitchen table as he continued to cook the meal and talk. He was always a good talker and this time he told me all about his recent visit to Bayern (Bavaria). Then one of his phones rang and another friend called to wish him a happy birthday. He chatted on the phone with many people that afternoon and in Hungarian, German and English. He just switches between the languages depending on where the caller comes from and with no problem. I mentioned this to him and he just laughe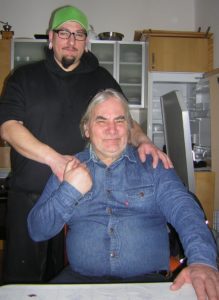 d and said he did it automatically.
The food was then ready. He had cooked slices of chicken breast in a tomato and vegetable sauce served on rice. Very tasty and went well with the wine he had bought. He is a good cook and enjoyed the food, so-much-so that he had 3 plate before he was full. Here is pic of him devouring plate No.3 ! More talking before the bell rang. It was his son who dropped in after work to wish his Papa all the best for his birthday. They both get on well together and he enjoyed relaxing at Imre's home and joining in the talk – and with a beer! Yes, unlike his Papa he enjoys a beer or two. It was nice to chat with him and catch up on his news. Then they posed for a photo which you can see here.
And so the afternoon wore on and it was time to leave. I thanked Imre for letting me share his big day – and his cooking. I arrived home in the rain and settled down to watch a football match in the champions league on TV. I enjoyed the game which completed a memorable day for me. Hope you had a nice day too.