Slowly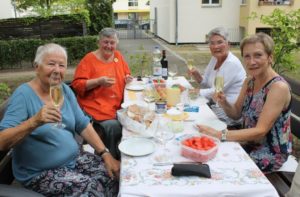 The wound in my right leg is slowly getting better. The key word here is 'slowly'. The wound has dry skin hanging over it and if I move the skin it starts bleeding again. I've decided to just put new bandages on
each morning and leave it to nature and time for the wound to heal.
We've had mixed weather this week, mainly hot and humid. Even so, most people on public transport wear a mask and observe distance rules. I've been hearing of changes in coronavirus cases in many countries and changes in travel rules. I can't imagine being 2 weeks in quarantine. No thanks! I still don't know when I may be able to fly to the UK to see family and friends. Perhaps in winter.
I welcomed the Kowalke Gang to my garden yesterday evening. They brought the food and drinks and I provided the seats and table. Not a bad deal! Lots of talking as supper was consumed and the evening cooled. We started with a glass of Sekt, as you can see in this photo. We toasted Colin. He is Johanna's cousin and had to stay in Sydney in Australia due to coronavirus rules. At least he kept busy renovating his house. See you next summer Colin. Prost!