Tagaus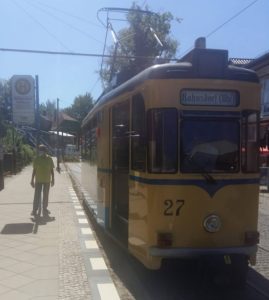 I had a nice day out on Thursday. Johanna and Putte came to my place for a cuppa coffee before we left for the local S-Bahn. We all wore face masks which is now a requirement in public transport here. It is the same in shops. Most people just accept that and wear a mask with no discussion.
We headed to the east of Berlin and got out at Rahnsdorf. A short walk to the Tram station and waited a few minutes for a tram that is old. No idea exactly how old but I guess from the 1920s. Here you can see a photo of me standing next to the tram. A really relaxing ride through woods and green fields until we reached the last station at Waltersdorf. There are two lakes and lots of woods and a popular restaurant there.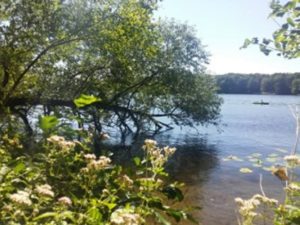 We got there just after it opened and noted it quickly filled with people over 65! They clearly had the same idea as we did. No surprise that I selected fish for lunch and it was really nice to enjoy it with a sunny view over one of the lakes. From there we set off on a walk to take away the calories. We walked down the side of the second lake with little breaks to enjoy the view. We ended our walk at Erkner where I have been many times. We had a coffee break before taking the S-Bahn back to Berlin.
Of course I did not know I was going to have an accident with my right leg next day. I told you about that in my last post. The wound is slowly healing with the help of cream and bandages. It is just a matter of time before I am galloping around on both legs!