Another Day Out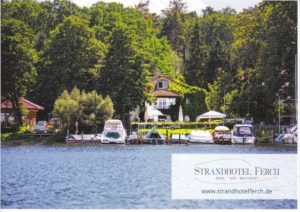 I had another nice day out yesterday. I met Johanna and Martina at a local U-Bahn station at 9.30 and that was the start of the day out. The route and destination was in a book about walks around Berlin which Martina has. We got seats in a regional train at Alexander Platz. It was full of families and lots of people with bicycles. We got to Potsdam at 10.38 and managed to get into another regional train heading south.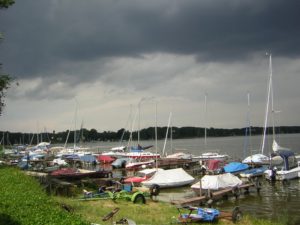 We got out at Caputh. This is a really nice small town and Albert Einstein used to live there. His house is now a museum and well worth a visit. We started our walk from there along one side of a lake called Schwielowsee. The track was well marked and there were seats so you could relax and look at the views across the lake. We walked on and finally arrived at a town called Ferch which marks the southern tip of the lake. This was our destination.
We were hungry and it was lunchtime so we went to the Strandhotel restaurant. Here is a photo of the hotel. There were lots of tables and seats on the harbour side so we settled down to enjoy the view and a meal. Martina and I ordered the same dish. Yes, a fish dish and very tasty. Here you can see the view from our table with dark clouds gathering. It rained a little then the sun shone again. By then it was time to return so we got a bus to Potsdam.
From there we took another regional train back to Alexander Platz and the U-Bahn home. We all agreed it had been a very interesting excursion and we should do another one in a week or two. A very good idea especially with fish for lunch!