Busy Day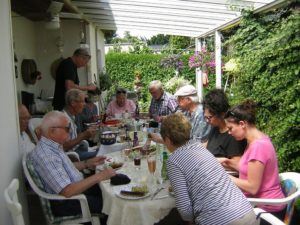 I had a very busy but nice day yesterday. It started with taking public transport to a garden house in Mahlsdorf. This is in the east of the city in a district called Köpenik. I missed the local train by 1 minute so had to wait 20 minutes for the next one. Then I discovered there was repair work on the tram tracks. I had to take a bus. The clock ticked away and I could hear local people complaining about the bad service. Finally the bus came, but it only went one stop. We all had to get out and wait for a replacement tram. More complaining!
The tram came and I got out at the 5th stop. The house is on the corner so I could hear members of Kerstin's Keep Fit for Seniors Gang as I approached the garden. I was the last to arrive and just in time to see the food grilled and placed on the table. The Gang tucked in and enjoyed the different dishes. I kept being told to eat more but I said I could not for I had to return home because I was expecting guests from England. A quick thanks to all and then I set off on the way home.


I got home in time to set the table in the garden and welcome Johanna who brought some cakes. Yes, it was time for Kaffee und Kuchen but who were the guests from England? As planned, Adrian and Tanya walked into the garden and we settled down for a nice couple of hours for they had an appointment later. Adrian and I met in 1978 when we went to the University of Sussex and we have kept contact ever since.
Lots of catching up on news as we sipped a cool glass of Sekt to welcome them. Coffee was enjoyed with strawberry cake and lemon cake. Mmmmh…tasty. I was surprised that they didn't look any older. The last time I saw them was a couple of years ago when I stayed at their place in London. And so it came time for them to leave. It was agreed that I stay with them again when I next visit London. Always nice to spend time with them. What an interesting mix of meetings.