Visitors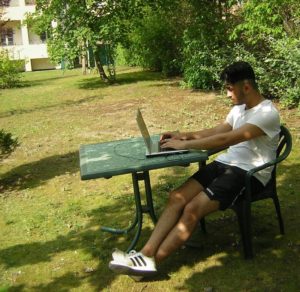 I had two nice visitors yesterday afternoon. Yes, it was 'The Bros'. They called earlier to see if I would be at home and if they could visit. I said yes to both questions. I told them to bring large bags to carry clothes for their sister. I got a large package from Holger and Gabi near Bremen with clothes for her. This was the second package, so many thanks to both for their generosity.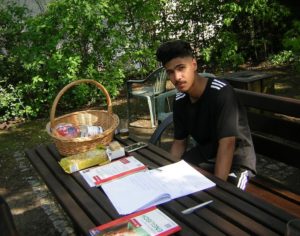 The Bros asked if they could work in the garden. I readily agreed and off we went. Bro1 wanted to use my wlan connection. I gave him the information and he got onto the internet. He had a project to work on in the internet about preparing for college after the holidays are over. He also enjoyed just relaxing in the garden as he worked.
I worked with Bro2 who wanted to learn more English. He had brought his books and papers and showed me what he had done since out last meeting. I was impressed at his progress. He now really needs to speak and listen to English and not just do exercises in his book. There is little chance of that for he and his family cannot leave Berlin-Brandenburg without special permission. Meanwhile, he will just have to push ahead with exercises in his English books.
And then I heard the magic words, "Opa, ich habe Hunger!" We moved into the kitchen and prepared different pizzas followed by a fresh fruit salad I had made. Lots of lip smacking as the plates emptied. After that it was TV and dozing on the sofa. It is clear that The Bros are making progress in many areas related to study and future training. A nice visit from a talented couple of brothers.